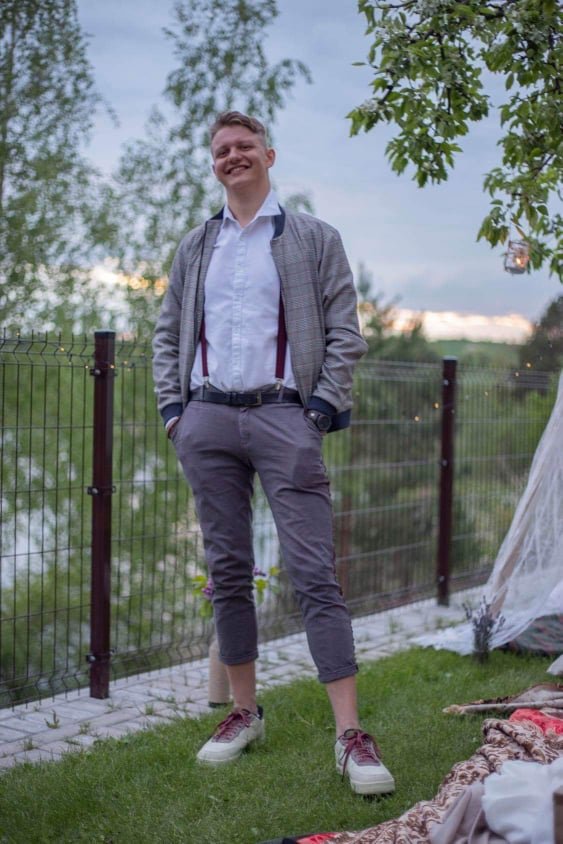 Hi, I'm Marius Dvariškis. Not so long ago, a few years ago I discovered a new niche - events and then I already knew I wanted to do it, but there was a lack of practice and knowledge in this industry. As a result, I entered the University of Greenwich in London and completed a bachelor's degree in events management. However, theory alone is not enough to organise events, so I got a job at a large corporate company, Camm and Hooper, in which I also had to work with up to 700 guests per one event. In this work, I only became even more convinced of how fun and interesting it is to communicate with different clients, to work at a fast pace, to decorate the premises, and finally to hear a big and sincere thank you for fulfilling all their wishes! All these things inspired me even more, to establish a business in Lithuania and to strive for improvement with each organised event. I love nature very much and spending time walking through the woods, so I try to make the decorations myself and use as many items as possible that are no longer used. It is also very important to me that the event is organised by minutes, so I always make a schedule with times and other details so that there wouldn't be any problems. I want to share with you what I know best and help fulfill your wishes by creating unforgettable events!
My name is Akvile, I always believe that no celebration can do without candles, light bulbs, and close friends. I discovered creating decorations to fulfill parties themes at my and my friends 'personal celebrations, I always enjoyed it, sought perfectionism, and wanted to surprise everyone. I love nature, long evenings, and sunrises. I can spend hours and hours outdoors, which is why naturalness in the scenery, earth color and resurrection of things for a second life is extremely important to me. I read books, I love cozy evenings, I love coffee and delicious food, and I can't live without trips and planning them. Compiling lists is one of my favorite jobs, and goal setting is an integral part of me. I can't start planning a party without making a list and having no vision of how things will look in the end. I want to share it, spread warmth, a good mood, and unforgettable memories.
Create decorations to mark unforgettable moments
Produce events so that customers have no worries and guests enjoy unforgettable moments.
Hear what our clients say's about us